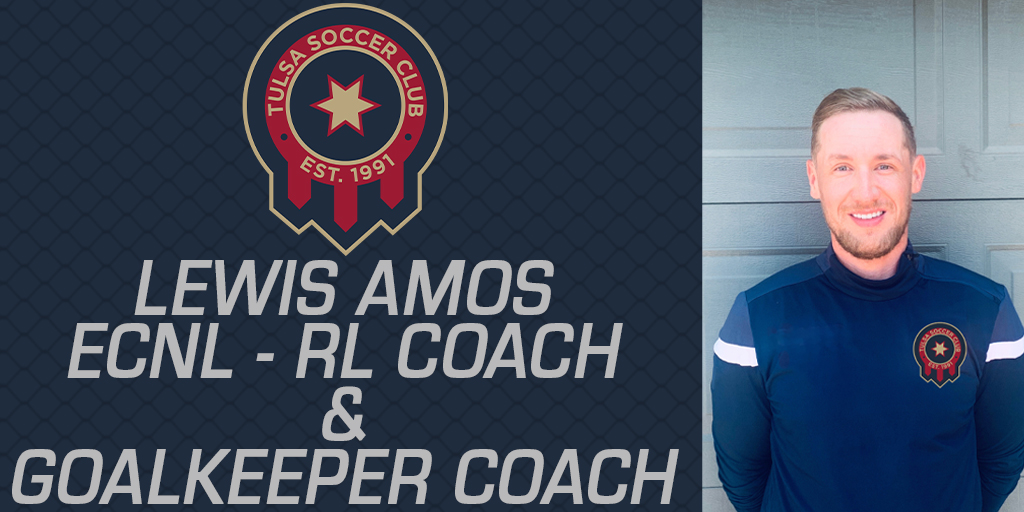 May 7, 2020
Tulsa Soccer Club President Barry Williams announced the appointment of Lewis Amos as Coach of two ECRL teams and Goalkeeper Coach.
Coach Amos was part of Tulsa SC during the 2018-19 season and the 2013-16 seasons. Coach Amos returns after a brief stay in the United Kingdom, where he served as the Director of Goalkeeping and Assistant Coach for the U18 Boys first team at Stevenage Football Club in Stevenage, United Kingdom. Coach Amos also coached the goalkeepers at Oral Roberts University in 2015-2016. Coach Amos had a rich playing career taking him across the world from youth development at Tottenham Hotspur FC, to the Inter-Milan U23 squad, DC United and Tulsa Revolution. He also has a long history of delivering specialized goalkeeper training across the United States and in the UK.
Coach Amos has dedicated much time and effort to professional development as demonstrated by the many licenses he has attained. Amos holds a UEFA A license, a UEFA B Goalkeeping License, United Soccer Coaches Advanced National Diploma, United Soccer Coaches Advanced Goalkeeping Diploma, and United Soccer Coaches Director of Coaching Diploma. His vast knowledge and experiences at top clubs around the world makes him an asset to Tulsa SC on multiple levels.
Alex Revell, 1st Team Manager, Stevenage FC
"As manager of Stevenage Football Club my time with Lewis was relatively short but he made a huge impact on myself and the staff at the club. His enthusiasm and energy was outstanding. His sessions were very inventive and as a coach/manager watching him coach I had total faith in his coaching style and information. As a football club we were sorry to see him go but we hope his new opportunity is something he can grab with both hands and show everyone what a good coach he is."
Director of Coaching Yolanda Thomas, Tulsa SC
"Lewis is a passionate and energetic individual. His players really enjoy training with him. He motivates and challenges his teams and goalkeepers and his dedication to his players and his craft is second to none. Lewis is also very knowledgeable and a great resource for our club."
For more information or interviews, please contact social@tulsasc.com or Nick Salis at 918-261-3402.
For the latest #TulsaSC content follow us on Facebook, Instagram, & Twitter.
Tulsa Soccer Club
1325 E. 15th St.
Suite 202
Tulsa, OK 74120

(918) 550-5807

support@tulsasc.com